概要
Autorun MAX! gives you the power to create professional looking CD-ROM/DVD-ROM autorun menus and other interactive multimedia projects that are sure to impress. And you don't have to be a software programmer to do it. With its intuitive workspace and drag-and-drop objects, it's quick to learn and easy to use. Autorun MAX! requires no programming knowledge whatsoever! You'll be amazed with the powerful functionality and stylish visual appeal that Autorun MAX! puts at your mouse-clicking fingertip.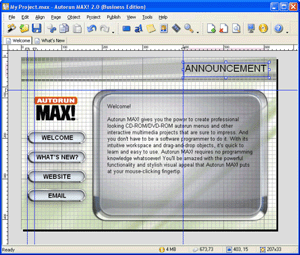 Completely Visual ? No programming required. Autorun MAX! features a completely visual drag and drop environment. Simply add content such as photos, videos, music, and text to your pages and position them using your mouse. If you like, you can even use the included alignment tools, including grids and rulers to help keep things straight. We've even included lots of extra content like backgrounds, panels, buttons, sound effects and more to get you started. Make your project completely interactive using our simple "fill-in-the-blanks" style system. From opening documents, to running programs, viewing websites and sending email, it couldn't be easier!
Includes a Collection of Ready-to-Use Templates. One of the features which makes Autorun MAX! so quick and easy to work with is the included library of ready-to-use project templates. We've included templates for all of the popular autorun CD projects like basic CD menus, electronic business cards and much more. To apply a template simply select it in the new project dialog and Autorun MAX! will do the rest. All you have to do is substitute your content for the placeholder content and publish. Autorun MAX! templates guarantee professional autorun CDs for anyone, in just a few clicks!
Easy Publishing ? Burn to CD, Send by Email & More. Whether you prefer to distribute your projects via email, CD-ROM, the internet, or even a CD ISO image, Autorun MAX! makes it a breeze with the handy Publishing Wizard. With just a few clicks you can generate all the files you need to get the job done quickly and correctly. Autorun MAX! can even directly burn your autorun CDs without any need for external CD burning software. The Autorun MAX! Publishing Wizard is clearly laid out and very easy to use, even if you have no prior experience creating your own autorun CDs.
●

Home and Business Editions

Autorun MAX! is available in two editions: Home and Business.

Home Edition
The Home edition shares the same overall design environment as the Business edition. It comes with 100 pages available for your project. With the Home edition, you have two publishing options: build and publish your project to a Hard Drive Folder, or burn it onto CD-R/CD-RW or DVD+-R/DVD+-RW.

Note: The Home Edition is licensed for personal use only. You cannot distribute any of the projects you create for any purpose that is commercial, organizational or business related. However, you're free to distribute your CD's to friends and family. For business use, you'll need to purchase the Business Edition.

Business Edition
The Business edition includes everything in the Home edition and expands on a few key features. With the Business edition, you have 250 pages available for your project. You have four publishing options: build and publish your project on a Hard Drive Folder, burn it onto CD-R/CD-RW or DVD+-R/DVD+-RW, create a Web/Email Executable, or create an ISO Image. Additionally, with the Business edition you can turn off the Autorun MAX! credit screen (or replace it with your own logo/image) that is shown when your project closes.

Note: The Autorun MAX! Business edition license agreement allows you to distribute the projects you make with Autorun MAX! for both personal and business use, with no additional royalties or feess. └

詳細は、開発元のページをご参照ください。