Featured Products
IPWorks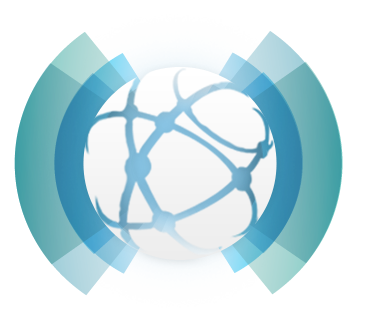 IPWorks is a comprehensive framework for Internet development and is the core building block for most /n software products.
IPWorks eliminates the complexity of Internet development, providing programmable, SSL-enabled components that facilitate tasks such as ensuring security, sending email, transferring files, managing networks, browsing the Web, consuming Web Services, etc.
All Major Internet Protocols
Components for FTP, HTTP, SMTP, ODATA, POP, IMAP, LDAP, DNS, RSS, SMS, Jabber, SOAP, WebDAV, JSON, XML, and many more!
Latest Security Protocols
Full support for TLS 1.3, TLS 1.1, SSL 2.0, and SSL 3.0.
X.509 Certificate Creation
Become your own certificate authority. Advanced components for digital certificate creation, validation, and management.
Up to 256-Bit Strong Encryption
Robust enterprise-class security with up to 256-bit strong encryption using SSL and Digital Certificates.
Uniform & Extensible Design
Very easy to use, with a uniform, intuitive, and extensible design. Common component interfaces across platforms and technologies.
Fully Integrated Components
Native software components for any supported development technology - with no dependencies on external libraries.
Red Carpet Subscription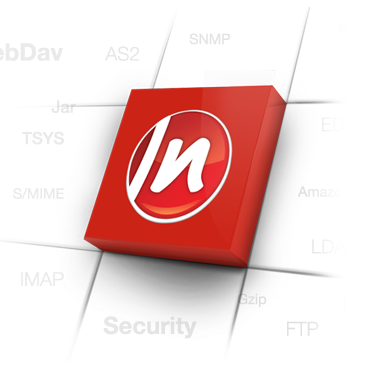 The Red Carpet Subscription includes every edition of every product that /n software offers in a frequently updated subscription service.
You get tools for every major communications and security protocol and every major development platform as well as IT tools for remote access and management in one convenient package.
Included Products
All IPWorks Products
All Business Integrator Products
PowerShell Server
NetCmdlets
Remote File Access products
SFTP Drive, SFTP Server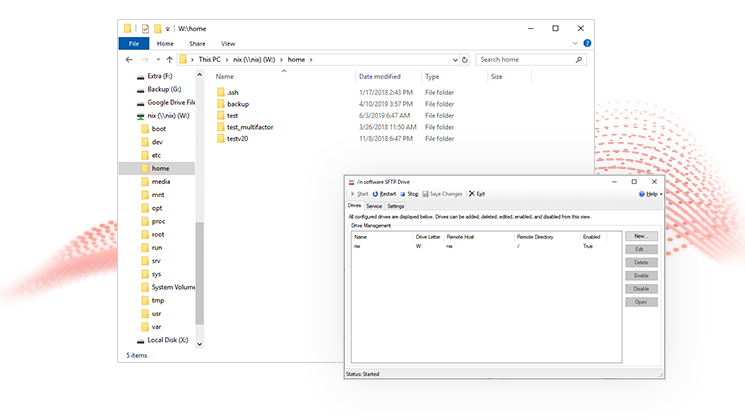 SFTP Drive
SFTP Drive removes the hassle of working with files stored on remote servers by allowing you to access them as if they were on your machine. This eliminates the need to download and upload files you need to access and work with. SFTP Drive is built with the same attention to quality and security that makes /n software the most trusted source for communications software.
Easy-to-Use
Use the intuitive installer, enter your connection credentials, and begin working with remote files in minutes.
Secure Connection
SFTP Drive uses the Secure File Transfer Protocol (SFTP) to ensure the strongest security possible.
Outstanding Technical Support
Backed by an expert team of support professionals. Unlimited, free Email support or paid Premium Support options.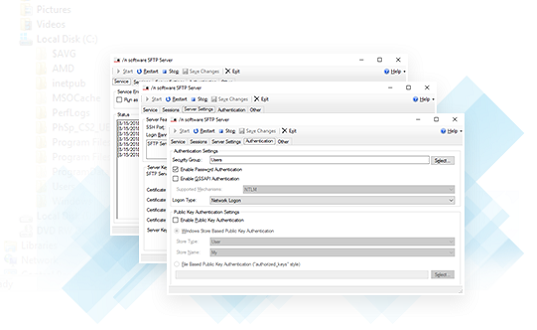 SFTP Server
SFTP Server is lightweight, high performance SSH File Server. It is designed to be simple to configure while providing robust security and high throughput. SFTP Server features a highly configurable yet easy-to-use interface which can be setup in minutes. SFTP Server is built on the rock solid core of IPWorks SSH, which has provided industry leading SSH security and performance for over a decade.
Add an SFTP server to Windows
Easily configure an SFTP Server on any Windows Desktop or Server for instant Secure File Transfer capability.
Enjoy Industrial Strength Security
PowerShell Server supports all major SSH algorithms, AES and 3DES encryptions, FIPS 140-2 cryptography, and more.
Easy-to-Use
Use the intuitive interface to start hosting files within minutes.


Supported Platforms
Help & Support
| | |
| --- | --- |
| | Questions and answers on products and services are available. |
---
| | |
| --- | --- |
| | Each online help file offers extensive overviews, samples, walkthrough's and API documentation. |
Free Trial & Order
| | |
| --- | --- |
| | Download 30-day free trial from here. |
---
| | |
| --- | --- |
| | /n software pricing information can be found in here. |
---