WinHelp support for Windows Vista


---
Last Update Date: 07/07/2006
As announced previously, Windows Help program (WinHelp32.exe) is not included in Windows Vista.If you run help files using WinHelp32.exe in Windows Vista, the following message will be displayed: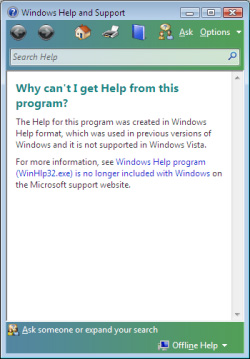 Microsoft has announced that WinHelp32.exe is no longer included with Windows, starting with Windows Vista, and third-party companies are prohibited from redistributing it (Windows Help download version is currently under development).The company strongly recommends switching from .hlp to .chm, .html, and .xml.For more information, please refer to the following Microsoft Support website.
http://support.microsoft.com/kb/917607
In order to display WinHelp (.HLP) that uses WinHelp32.exe in Windows Vista, it must be converted to HTML Help or AP Help, the new help file format introduced in Windows Vista.
Conversion from WinHelp to HTML Help
Currently, the most efficient way to convert WinHelp to HTML Help is to use RoboHELP. Since the English edition of RoboHELP cannot handle Japanese WinHelp, the Japanese edition of RoboHELP is needed. While the latest English edition is RoboHELP 6, the latest Japanese edition (also Korean, Chinese Simplified & Traditional) is RoboHELP X3. In order to process multiple languages, including Japanese and other Asian languages, under the same conditions, the appropriate RoboHELP X3 must be used.
With the experience of providing localization, distribution, and support for the bestselling online help authoring tool RoboHELP, XLsoft offers multilingual conversions from WinHelp to HTML Help.Please contact us for details.
Conversion from WinHelp to AP Help
We will post an update as soon as any announcement is made.