This quick tutorial will show you how to set up your Unity project to build for the Android platform.
---
Application Identifier
Make sure your Application Identifier is correct for the API Key you're using. You can find your project's Application Identifier by clicking the Set App ID button on the Kudan Trackerscript, or by going to Edit -> Project Settings -> Player and opening Other Settings in the Android tab.
Your Application ID be either:
The ID you entered when generating your free key on the Kudan website, in the format "com.companyName.productName".
If you are using the Development License Key, com.xlsoft.kudanar.
To see if your API Key is valid for the Application ID you put in, run the app in Play Mode. A message will print out in the console telling you whether or not your API Key is valid.
If your Application Identifier is not correct, the tracker will not run.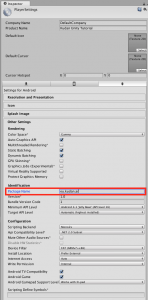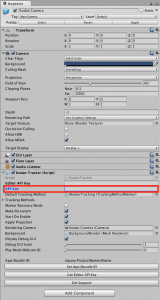 Build and Run
You can now build the app by going to File -> Build Setting and selecting Android. If you have an Android device already connected to the computer via USB, you can click "Build and Run" and the app will automatically play on the device once the build is finished. If you click "Build" you will need use the Android Debug Bridge (ADB) in order to manually install the app onto the device.